2.6 million paper cups are thrown in the trash every week in Vancouver, but they're not coming from this café.
Nada has launched one of this city's first "zero-waste" cafés. While it might not be completely zero waste, it's about 99% better than any other café, but the concept started from more than coffee.
On the corner of Fraser and East Broadway, you'll find a stream of dedicated, environmentally conscious shoppers at the Nada grocery store. With only one location, some customers travel from as far as White Rock – or even Victoria. What makes this grocery store special? Unlike most, they don't sell anything in packages, and now, they're offering coffee and ready-made food to their customers. In the short six months since their grocery store launch in June of 2018, Nada has been featured in many news outlets and has been growing significantly.
It's actually shocking that this concept of package-free shopping seems new. As Alison Carr, Supplier Relations Manager of Nada put it, "we just have to remember that before disposables, people managed. It's just something that you did, you would bring your bags or containers to the grocery store."
"We just have to remember that before disposables, we managed" – Alison Carr
Many people view it as more work, but it's not entirely different from a standard experience. Simply changing a habit, such as remembering your bags, jars, and containers before you leave the house is all it takes to make this your regular stop for food.
"When we were younger, we didn't have phones. And now we do, and we don't forget those items." This is the analogy that Alison uses to explain it's merely a slight habit change.
Even if it isn't exactly the easiest way out for shoppers, the easy way isn't doing well for our planet, now is it? Besides, once you shop local, ethically sourced foods, from a store that has no packaging, you will start to cringe when visiting a standard Save-On-Foods or Tim Hortons. But could those corporate giants really change?
"I don't see a reason why we should be holding off on long-term change. We're all pretty aware of the impact that we're having on the planet," says Alison. So a new era of stores, one that can make change happen by shopping differently is mandatory if we're to fix this issue. The customers of Nada don't just want to get their groceries without plastic and waste, they're completely invested in seeing Nada succeed, to spread the word, and help others to think differently about their consumption.
With the success of groceries, founder, Brianne Miller, and the Nada team continued to push the boundaries of their mission, to create an unpackaged future. Doors opened to the new Nada café in October 2018, which resulted from solving 2 important problems: First, despite eliminating food packaging, food waste was, and will always be an ongoing issue. You simply can't sell every item in perfect time before it expires. Second, coffee shops, like your average Starbucks, Tim Hortons, or even a local boutique cafe, produce enormous amounts of waste. This includes the up to 2.6 million disposable coffee cups that are thrown in the trash each week in Vancouver.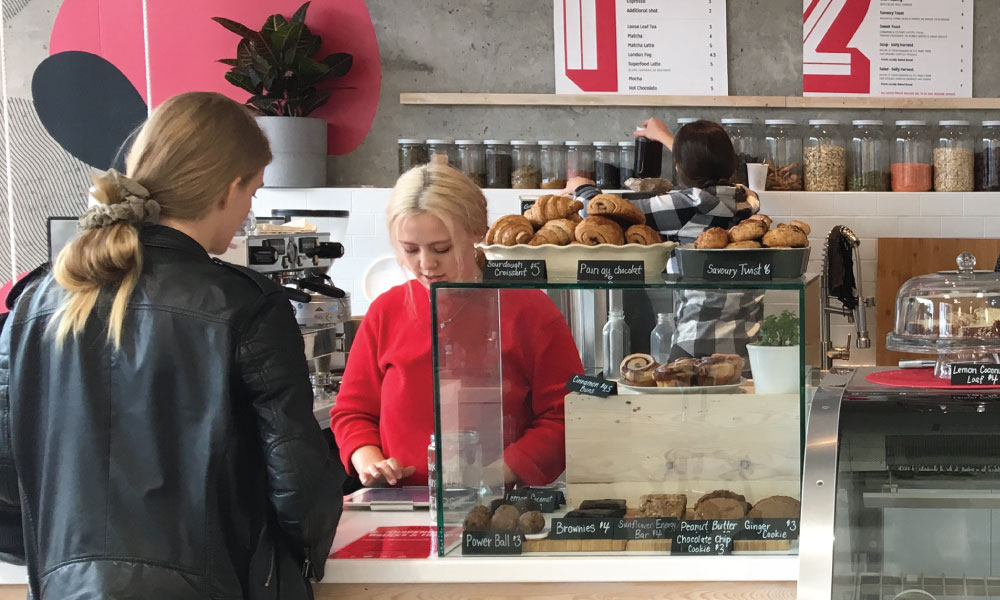 Brianne began this journey as a marine biologist who was troubled by the sheer volume of ocean waste coming from food products. That motivated her to build a sustainable, certified B Corporation that has set a new standard in grocery shopping, and now cafés. But just how has the community reacted to a coffee shop that doesn't have disposable cups?
"It's been really neat observing that process because we do have a lot of people coming in, not really knowing anything about our business model, just looking for something quickly," Alison said. "The response has been really lovely, and it's hilarious to see people's reaction, which a lot of times is confusion or just a big laugh." But this unusual experience leads people to spread the story.
Thankfully, if you didn't bring a mug, you're not left high-and-dry cupping your hands together full of a dripping mess of coffee.
For those who visited the café for the first time on their way to work in the morning, not knowing that Nada is just a bit different, were surprised to leave with their fingers wrapped around the stiff handle of a classic ceramic mug you might find at your home.
Did I mention their community was amazing? That's who they crowdsourced those mugs from. But with the open top and steam pouring into the air, this is no easy feat when your next step is getting onto a crowded bus in Vancouver. More solutions to cups are on the way.
Beyond drinks, the café sells a host of homestyle prepared foods, such as soups, salads, and sweet & savoury toasts. This is how they can take advantage of the food that won't get sold in time, and hopefully give it a new home in someone's stomach, instead of ending up in their compost bin.
The support for Nada and their journey has been amazing. If you were there in the beginning, perhaps you were part of the 20,000 people who signed the petition to help them get the business location they wanted. Being a small startup, with a niche audience, isn't the most attractive to the city when they're looking to lease out a storefront. However, all those pop-up shops and local events were proof of concept, and essential to building the early community that helped launch them.
But the goal isn't a niche audience, it's a better Vancouver, and that's what their community believes. Even if you've just recently started shopping there, one thing is for certain, Nada has a loyal community. With over 25 employees, a long list of local suppliers, and now a café, Nada is inspiring others to take action in reducing waste.
If you'd like to contribute to this mission, but Nada is a little bit far from your usual route to work, you can always bring a mug to your local cafe. "A lot of the items that you see being given out at a cafe are unnecessary, you know it's quite simple to just take something in your hand if you're getting a snack," Alison described.
Better yet, talk about it to the owners and baristas. Most coffee shops won't have a zero-waste grocery store tied to their wall that they can grab fresh ingredients from, but they can certainly make steps to reduce their waste in small, yet impactful ways.
If you want to join Nada's community, and the broader community of people striving for a zero-waste Vancouver, you can join their Facebook group here. And better yet, start shopping at their store in person at 675 East Broadway, in Vancouver.
Images courtesy of Nada Grocery