Launching into a career within social impact is undeniably tricky. While the social innovation and social finance market in Canada is fast-growing, vibrant, and full of opportunities, the path towards working in the sector is a difficult one to navigate.
This is why HSBC Social Innovation Academy and the National Social Value fund are excited to announce the opening of 2 programs to help youth kickstart their social impact career.
There has never been a better time to dive into this work, all signs point towards a growing market for social innovation – there are over 10,000 social enterprises in Ontario, rates of social enterprises are growing at double digit figures in British Columbia, and 150,000+ people are employed by social economy enterprises in Quebec.
More post-secondary programs, community organizations, and employers are beginning to shift their attention towards how their programming and operations can be better aligned with positive environmental, social, and cultural outcomes. To empower this transition, the next generation of leaders must also be equipped with the right tools.
At the HSBC Social Innovation Academy (SIA) and the National Social Value Fund (NSVF), we lead training and experiential learning programs to develop the next generation of social innovation and social finance leaders – leaders who are inclusive, well-rounded, and highly skilled.
For those interested in social innovation, SIA offers a seven-month Social Innovation Fellowship Program for youth aged 18-30. For those interested in social finance, NSVF offers a two year Social Value Fund Associate Program for students across five cities in Canada: Calgary, Kingston, London, Montreal, and Vancouver.
Social Innovation Fellows and Social Value Fund Associates learn from a core curriculum bridging the two programs and creating a benchmark of knowledge and skills. Across both programs, participants will have access to training modules, starting with foundations in anti-oppression training and designing for inclusivity in our work. Fellows and Associates then delve into specific skills, including impact measurement, research ethics, design thinking, financial modelling, due diligence practices, and fund management.
Over the course of the Social Innovation Fellowship, youth will be able to put the skills they have gained to good use by working with impact-driven organizations all across the country. Working in a small team, Fellows support social enterprises and non-profits on exciting projects, from market & design research to strategy.
Social Value Fund Associates run a student-led impact investment fund, identifying potential investments, performing impact and financial analysis, fundraising, and working with other investors to direct capital to social enterprises in their respective communities.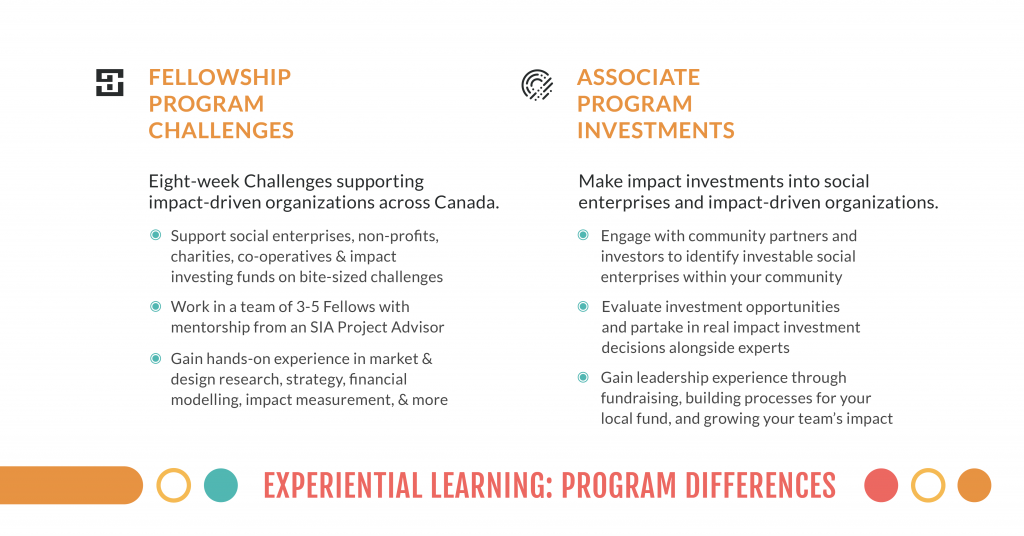 Beyond skills development, we take care to prioritize participants' professional and personal development. Whether it's meeting industry professionals through a one-on-one coffee chat program, or connecting with a small group of peers through an alumni-led wellness program, SIA and NSVF aim to provide a holistic experience for all Fellows and Associates.
For the past several years, we have engaged close to 200 youth and supported over 100 impact organizations. We have seen tremendous demand from youth for not only skills training, real-life experience, and professional development support, but also for a community of values-aligned peers driven to help solve environmental, social, and cultural issues.
Join us! Applications to both programs are now open and close on March 14th, 2021. Visit our webpage for our program overview and application instructions. We're excited to meet you.
About The HSBC Social Innovation Academy:

The HSBC Social Innovation Academy (SIA) is a national training program for youth who want to solve pressing environmental, social, and cultural challenges through careers in social innovation or social finance. SIA is generously supported by HSBC Bank Canada and powered by the UBC Sauder Centre for Social Innovation & Impact Investing.
About the National Social Value Fund

The National Social Value Fund (NSVF) is an experiential learning program for students, currently operating five local social value funds in Calgary, Kingston, London, Montreal, and Vancouver. NSVF supports local Associate teams with fund management and by connecting teams to their peers across the country to share learnings and best practices.