The holidays are here, winter is here, and it's that time of year where you get an opportunity to do a little extra giving back. But in light of the restrictions, some organizations have had to get creative, the Vancouver Shoebox Project is one of them.
The #VirtualShoebox campaign this year could be seen as an advancement in eco-friendly giving by saving the boxes and sorting but it's actually a safety precaution. The Shoebox Project has transitioned their traditional program where donors fill a shoebox full of personal essentials to be given to women in shelters, to a virtual donation experience.
The Shoebox Project has been active in Vancouver since 2014 and sends donated gifts to over 20 local societies and organizations. To keep operations flowing with consideration to pandemic restrictions, they've decided to not accept physical items. Instead, they will be doing the shopping themselves.
But this new virtual program doesn't leave their donors out of the process. By going to their website, donors can decorate and select items for a virtual shoebox they would like to donate to women in need this season. This creative solution allows people to go beyond just donating money, while still avoiding physical contact.
In general, financial donations like this have the potential to be more economical because of the nonprofit's ability to bulk purchase and secure partnership opportunities. One of their national partners is Shoppers Drug Mart through their LOVE YOU program, and we could imagine some advantages here. By the way, if you've been saving your Shoppers Optimum points for a rainy day, donating them to this program would be an impactful way to use them instead of waiting to get that toaster oven.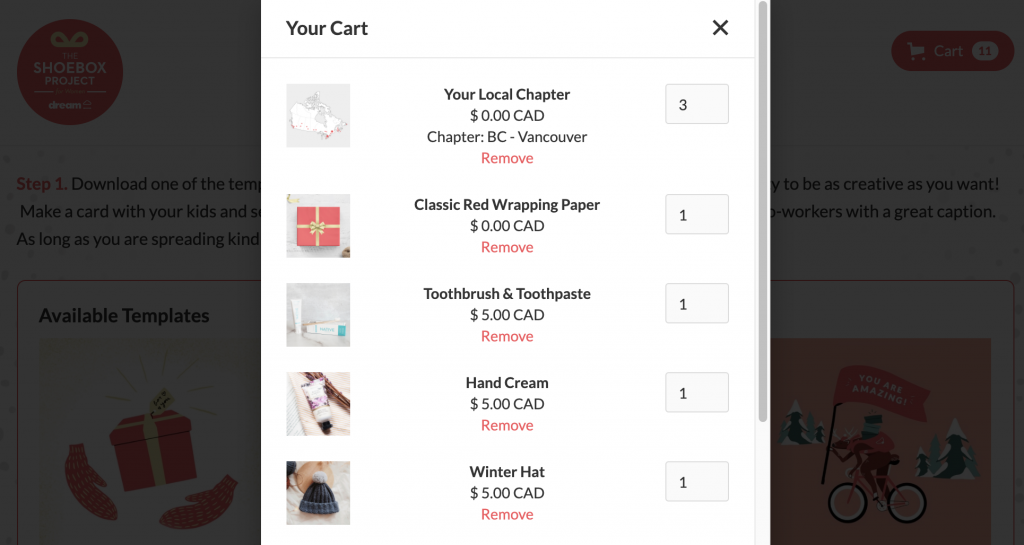 To finish off the Virtual Shoebox, the process ends with the ability to upload an encouraging message, photo, or card to include with your gift. At this time of year when community and emotional support is needed more than ever, we think this is essential.
To see the various ways of supporting the Vancouver Shoebox Project this holiday season, visit their website, https://www.shoeboxproject.com/vancouver.html, or you can browse the 4 other chapters within BC if you live elsewhere.