You may be familiar with the company Lunapads, a Vancouver B Corporation that's been creating sustainable period products for 27 years. While they've just rebranded as Aisle, there have been more pressing thoughts on their minds as we move through the spread of this pandemic.
The team at Aisle has focused on how they can use their resources, skills, and organization of amazing people to impact the community.
Aisle has created a GoFundMe campaign to create reusable masks for frontline workers in the Downtown East Side (DTES). Already surpassing their first goal of raising money to make 1500 masks, they've now upped the goal to 2500 – and donations keep coming in.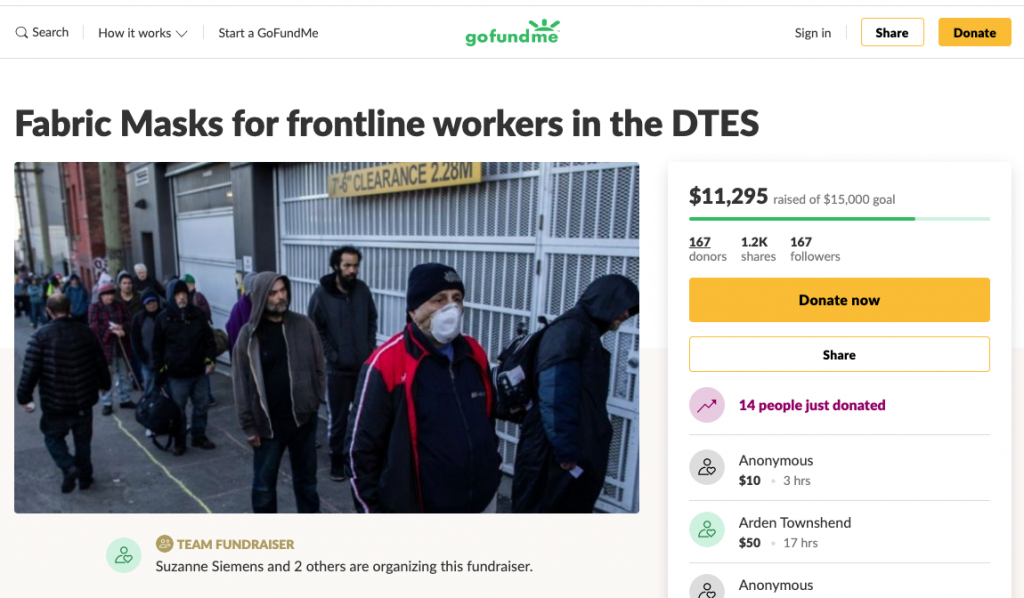 The mask shortage is real, and when you have vulnerable populations in the DTES that need social services, frontline workers need protection to safely remain working.
"The need is urgent and our ability to finance these costs during this uncertain time is very stretched. Every $7 contributed will go directly to making and distributing a fabric mask to DTES Response," Suzanne Siemens writes on the GoFundMe page.
While the effectiveness of a washable cloth mask hasn't been verified against medical-grade masks, but this campaign will be able to reserve that many more masks for hospital staff and first responders.
The masks are to be delivered to four organizations associated with DTES Response but might expand in the future. While we all are looking forward to the end of this pandemic, we will likely see needs like this persist for some time. It's time for more companies to step up and look at how their resources can blend with various community needs like this one.
If you'd like to help push them to their next $15,000 goal for this project, head over to the GoFundMe page here: https://www.gofundme.com/f/fabric-masks-for-frontline-workers-in-the-dtes
Feature image courtesy of Jesse Winter