With every Canadian being either directly or indirectly affected by mental illness at some point in their life, according to the CMHA, workplace stressors can definitely exacerbate difficulties of mental health struggles. However, in a presentation of facts and figures regarding mental health from Workplace Strategies for Mental Health, employers are seen as less accommodating to employees suffering from mental health issues than those affected by physical health issues.
The process of destigmatizing mental health issues has really just started to begin, leaving a lot of uncertainty in how to support an employee's mental health, especially if they are struggling. Though few companies have a documented approach in this regard, the Vancouver-based accounting company, Bench, dove head first into this initiative.
What Does a Mental Health Program Look Like?
The World Health Organization has a basic mental health guide to help companies create effective mental health programs and policies that are specific to the company itself, such as:
Awareness of sources of support
Reducing work-related risk factors
Promotion of healthy work-life balance
Though these points are vague, they lay out an important framework for companies to follow and add specific .
How is a Mental Health Program Put In Practice?
Bench has a comprehensive mental health guide available to their employees that's also open to the public. It dives into practical solutions that highlight their commitment to providing a supportive environment for their workers, such as:
Examples of what workplace stressors look like, as well as when someone may need to take a personal day
A directory of mental health professionals in the area
How to use Bench benefits, which include a wellness fund that financially supports and promotes out-of-work activities 
Specifically stating how much a psychologist visit is covered under their insurance
Examples of how to support fellow employees that may be struggling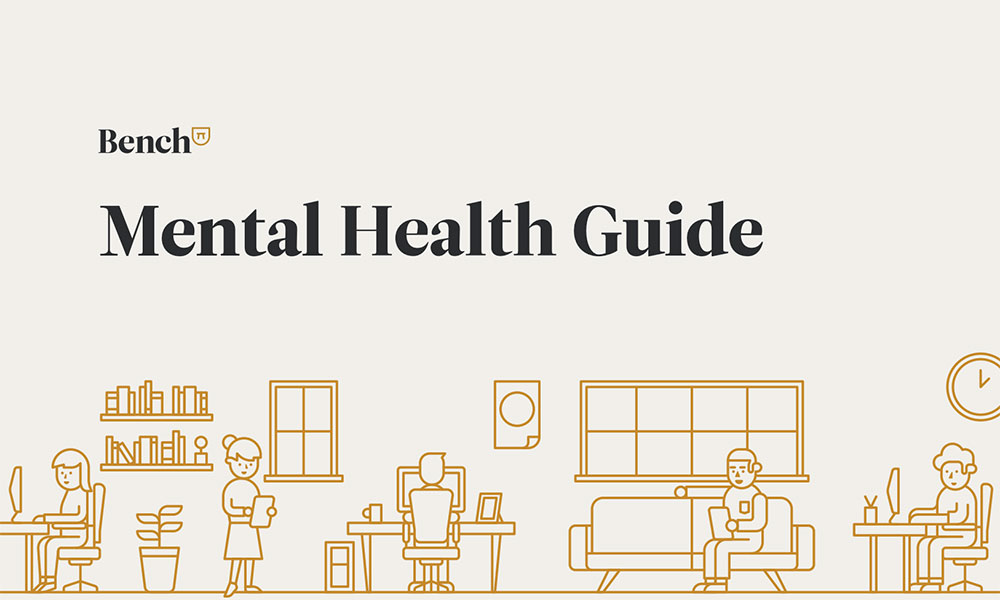 These solutions being available in an accessible document can make the world of difference to an employee.
Another notable feature at the bottom of the "Quick Preview" section, is this statement:
"This is a living document that will evolve as our team does."
Bench has garnered quite a bit of press for their mental health guide in the past, as they are the only business in Vancouver with a public mental health guide. Making their guide available to the public can show other companies how to improve upon often vague and generic workplace mental health guides provided by various mental health associations.
Why Make Mental Health Guides Public?
People are beginning to recognize the importance of their mental health, and it is imperative that their work place do so too. The publication of mental health guides inherently promotes an open dialogue on how better to manage employees' mental health, and can encourage more companies to create one for themselves.
The answer is not to copy and paste mental health guides from other companies, but to spend the time to understand what your employees need. As mental health is increasingly an issue, our workplaces must recognize that they have a unique responsibility and role to play.