It's been just over 11 years since British Columbia saw its first B Corp Certified company. Since then, a lot has changed and I thought it would be the perfect time to dive into this trend.
Fair warning, there is a chart, but this is not a scientific analysis – just the observations of an impact enthusiast.
The entire B Corp community is made up of more than 3500 organizations in 70 countries around the world. By taking a look at our province's trend, we can see steady growth in the number of B Corps but it's not accelerating at any significant rate.
Over the last decade, we've seen massive innovation, iPads, Instagram, A.I. assistants, self-driving cars, and now you can even order meat that's not meat on bread that's not wheat covered in cheese that's not cheese.
"And now you can even order meat that's not meat on bread that's not wheat covered in cheese that's not cheese".
But the most interesting trend to me is that people and organizations are increasingly seeking impact and purpose through their work – and the public is demanding it through what they buy.
While activism isn't new, the demand for morally responsible companies has definitely increased, and the risk of not accommodating the public's demands is exponentially bigger.
The most willing early adopters of business as a force for good have built a community around B Corp certification to provide a new category of transparency and accountability. Certification isn't the end goal though, it is a starting point for a clear conversation with consumers and stakeholders to continually improve.
So if you're still following and agree that this movement of purpose-driven business is rapidly expanding, you might also be interested to see the growth in certifications has been fairly uneventful in BC.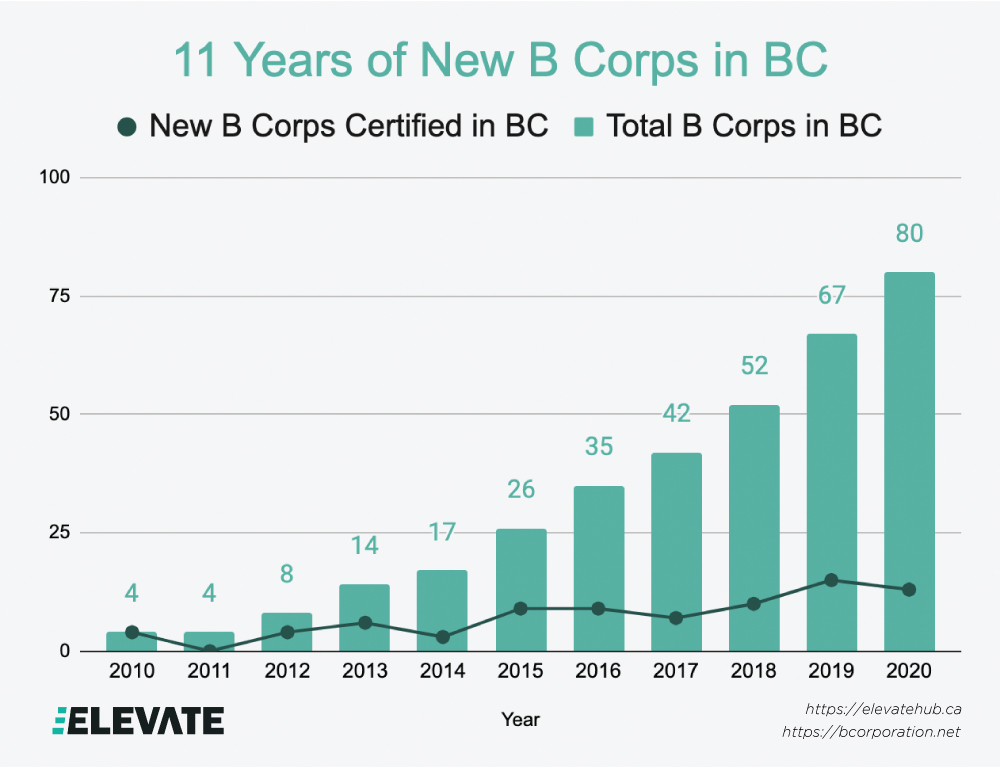 Don't get me wrong, growth is growth and I applaud all who've taken steps to do better business. However, I would have hoped to see more than 10 or 15 new certifications per year by now.
At first glance, this chart looks impressive, but it shows an accumulative number of certified companies. The average number of new certifications per year went from 4 between 2010 and 2015 up to 11 between 2016 and 2020. This growth is good, but I wouldn't call it a steep increase over a decade.
I've heard more mainstream conversations about B Corps in the last few years, and the general consumer is more often familiar with the term B Corp when I ask. That's just my anecdotal experience of course, but the movement seems to have sped up more significantly in recent years than this chart suggests.
Why aren't there more B Corps?
From speaking with social enterprises in recent years I've received a few common responses to why they're not a B Corp.
Some companies simply aren't concerned with it. They've carved out a spot for themselves in the market, they even have a culture and position of impact, and that's enough for them.
The other common answer is that they are putting it off because of other priorities. Depending on your industry and how you've been operating it can be a lot of work to pass the assessment. In addition, the organizations that typically get certified have already been operating with purpose, making the lengthy checklists and reporting seem less important in the short term.
Perhaps another hypothesis could be that the average consumer is okay with the image of impact and not transparency. Mission statements, marketing, and packages are changing, which might be enough for the average consumer – and brands know they can get away with it…
As I said before, B Corp certification isn't the end goal, it's a tool, and I admit that not every company has to use it.
The drop in 2020, increase in 2021?
In my not-so-scientific assumption, some companies likely put off getting certified because of the pandemic in 2020. Survival mode kicked in and getting that new label turned out not to be the top priority.
Since some may have been holding off, and 2020 awakened the world to the positive impact businesses can make, I would anticipate larger growth in the B Corp community in 2021 – assuming the pandemic concerns decline instead of increase.
The best opportunity is now
Despite the hum-drum attitude I portrayed about the data in this article, I sincerely believe now is the best time to become certified as a B Corp.
The demand and interest in B Corps has grown way faster than the size of the community. This means that certifying will position you with a larger share of the attention than in the future when it becomes more commonplace.
And if you're already impact-focused and thinking, "why do I need a stamp of approval?" I have this to say: Have you considered all the angles? Has your team?
In addition to many benefits, the B Corp assessment encourages you to continually find new areas of improvement in every part of your business. I realize this now sounds like an advertisement for B Corporations, but I assure you it's not sponsored. I'm just an advocate for using tools like this to improve how we all do business.
If you've been hesitating, don't. There are people that can help walk you through it.
Just let me know and I can connect you.
To learn more about B Corporation certification visit bcorporation.net.